<<=== to the home page …... ......... .............. ...........................to the publications===>>
Link to the copies of the past evaluations
Appendix I: the complete physics course is available online
Appendix II: Teaching Philosophy
<![if !vml]>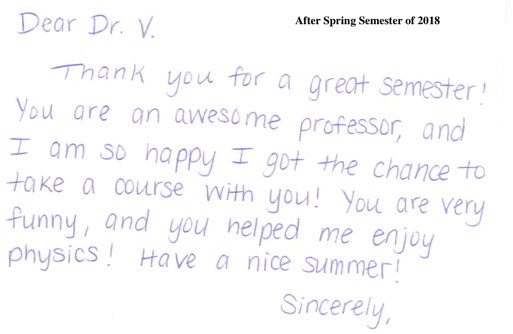 <![endif]>"Prof. Voroshilov, I'm at a loss for words to express my gratitude. In all of my years of school, from elementary, into high school, and through college, I have been blessed with top-notch teachers. But I'm pretty sure you take the cake. I was originally debating between taking physics at Harvard or BU, and all the signs pointed to BU. Honestly, I kind of think it was fate. I am not sure if it was just a good student – teacher match, but I thoroughly enjoined your lectures. You have an uncanny ability to present material, and it's pretty clear (to me, at least) how much effort you put into your work as a teacher."
"Thank you, thank you, thank you! Mr. V, thank you for putting up with all of us this summer!! I feel much more prepared for the MCAT. And I loved the demonstrations! Thanks for putting all the time + effort!"
"Professor V, You designed this class so that those who put in the effort would succeed, so I gave it my all and sure enough.
"I want to say thank you for creating such a conducive learning environment for me to succeed. I hadn't taken a physics class since my freshman year in high school, so I was very nervous going into your class. I did not expect this course to become my favorite science course so far at BU. Physics is a hard subject, but you explained everything well and made sure we, as a class, had the tools necessary to succeed with enough hard work on our end."
"Professor Voroshilov is great – he explains concepts very well, and makes great use of clicker questions, demos, etc. Prof. Voroshilov also uses powerpoint, transparencies, videos, cameras, tablets, etc. very creatively and effectively to reinforce material from lecture."
"I didn't like physics before taking this class and now it's one of my favorite classes."
"Best physics professor here, only one who cares if students are learning the material. Proves you don't need a PhD in physics to teach this class. PhD in education is much more effective."
"If I could give a 10 for Dr. Voroshilov, I would. Excellent teacher. Makes physics fun (which is a very hard thing).
"I love Mr. V."
"Dr. V is a great professor. Cares about physics and his students."
"Loved Dr. V. Wish he taught during the school year as well."
"Fantastic teacher."
"I hated physics before taking this course, and now after taking both 105 and 106 with Mr. V, I actually really enjoy it. He is one of the best teachers I've ever had. Thank you"
"Makes concept sound simple."
"He is able to explain concepts very well"
"He is so funny in a sarcastic, deadpan, Russian dad joke way."
"I like him a lot. He is funny and smart and tries to explain things not from a math context but a physics context"
"Really good at presenting material and keeping students engaged. Fun, dry sense of humor, clearly knows material very well"
"Mr. V is a hilariously enthusiastic professor who is extremely knowledgeable. His tests were really fair and he was explicit in what he wanted. I was nervous for this course before we started, but Mr. V's dry humor and openness made physics interesting!"
"His slides a extremely comprehensive and he really does go over everything you need in lecture, but lectures are a bit fast as per the pace of the course and how much material we go over in one day or week, so I need to typically re watch."
"Professor V obviously knows a lot about physics and he is passionate about helping his students to also understand, not just how to complete a problem but the theory behind it and the reasonings as to why it works. He hosts a lot of o ce hours, and is also reachable by email and piazza so he is very available when help is needed."
"Make you work if you want to do well."
"It's a generally really cool course."
"Mr. V was by far the best professor I have ever had at BU. I wish he taught through the school year. He is always enthusiastic, explains topics well, and has great models. I don't think any other science teacher at BU can match up to him."
"Fantastic instructor. My favorite science professor I've ever had. Amazing at making even the most difficult or boring subjects interesting and fun. Absolutely hilarious. Won't take physics if not with him. Just needs neater handwriting."
"He is a master. He knows his material. He wants to help. That's all I can expect from a teacher. He is great."
"He tends to challenge us by truly assessing which of my aspects are flawed."
"He's great. One of the best instructors I've had at BU."
"He really makes the class enjoyable."
"Professor V is an excellent professor and by far my favorite I have had in my three years at BU. It would be a delight to have him teaching here during the school year as well."
"He is a master. I think all professor should be able to teach as him. That way students would not have to spend hours reading off of lectures."
"I can honestly say I had never seen a professor who cared more for his students and how they do, as well as what they learn."
"Best teacher I've had, bar none."
"Explains things in a way that can be understood – explains why we care. Great and interesting demos. One of the best science professors I've had at BU. Actually wants us to do well. Lear expectations."
"Val was a breath of fresh air after CH109 and 110. Great lecturer; I almost became a physics major because of Val (and the TFs, too). Explains well, is nice, has great presentation."
"Incredible instructor; best one I've ever had at BU. He above puts the chemistry department to shame in how thorough and passionate his lectures are. I would change to a physics major or minor if he taught every class."
"The examples were very thorough and thought-provoking. The demos were interesting and made of material more applicable to real-life scenarios."
"Punctual, respectful of class end-time (much appreciated). Extremely knowledgeable about content, very effective at braking things down to digestive pieces, and presenting it in a logical, glowing manner. Highly engaging demonstrations. Great use of tools/props. Good energy (especially for a 9 am class). Professor Voroshilov has a very matter-of-fact/this-is-so obvious aspect to some of his statements, which I personally like, but could be discouraging to some students. If that's just his personality, then I'm not saying he should change it, just be mindful of how others might perceive it."
"Honestly, he is one of the best professors here in BU. He's engaging, loves teaching the material, and helps the students out to understand the concepts."
"Very passionate, good at explaining topics and going through enough example problems, experiments/demonstrations performed in lecture were helpful."
"I love you Mr. V, you make physics bearable!"
"Professor V. presents himself as somewhat cold and calculating, and appears to not care for his students. This is the first impression most people get, likely due to the nature of the material not involving emotional response. In reality, Professor V. cares deeply for his students, and it is apparent when he spends the time to answer students questions, regardless of how complicated or simple it may be. Professor V's teaching style keeps you motivated and engaged, and his presentations are clear and direct."
"Fair and quick grader. Has a really funny and dry sense of humor. Felt prepared for tests."
"The professor is very enthusiastic and has a lot of experiments relating to the topics we're learning."
"I have always dreaded taking Physics — so much that I waited until the summer after I had completed all the other undergraduate requirements and still hadn't taken it. I am very glad I waited and had Mr. V as a professor; he knows the material extremely well and teaches it clearly and explains well. One of my favorite professors thus far."
"Mr. V has the most extraordinary way of teaching a topic that most people fear. His sense of humor keeps the class amusing. I'm happy that my physics experience was left in the hands of such a passionate and instructor. The course always felt fair and prepared us for his expectations."
"Amazing professor. Waited for the summer so I could take PY105 and PY106 with him. Funny in his way and very fair. Always helpful. Would only take this class with him."
"I think he is very relatable and very funny. I think he genuinely wants people who are willing to work to do well. He is very fair with his grading policy. Many students who complain about him are just taking advantage of him to begin with, and are being unfair to him."
"The professor explains the concepts very well although of the language barrier, and he tries his hardest for students to understand, he grades the exams fairly."
"Prof. Voroshilov is very good at what he teaches, his slides are dense and helpful. Prof. Voroshilov is entertaining and teaches well. Prof. Voroshilov is awesome!"
"Prof. Voroshilov is always extremely prepared for lectures. Excellent lecture slides, demos and PRS questions, online class site and resources are excellent and helpful."
"I appreciated your sarcasm and the way you were teaching us to be very specific with our question because this helped me to become better with my analytical skills."
"Very enthusiastic and approachable. Genuinely cares about his students. Best professor at BU."
"Very smart and very funny. Physics is hard but Val made the experience more enjoyable. He's great. No need to change"
"Great teaching style, and encourages thinking."
"Russian spy. Knows his stuff."
"I really enjoyed taking Prof. Val and would definitely sign up to take another one of his course. You can tell he wants his students to understand and do well."
"Awesome guy. Loved being in his class."
"Mr. V is awesome. I love his humor and he's very good at explaining concepts clearly."
"I love professor Voroshilov. His dry humor is a perfect cherry on top of this course."
"Weirdly funny. Teaches clearly. Russian."
"He always asks if we have questions: enthusiastic. Too awesome!"
"I really like Professor Voroshilov. I think he is great at explaining concepts and is very underrated. Very helpful in office hours".
"The course's workload gave me the ability to learn a vast amount of material in just a little time: most of science courses do not do that. The professor was approachable, friendly and was willing to spend much more time out of class than most for explaining topics."
"Teaching - efficient, effective, easy to digest Presentation - funny, honest, blunt (Russian sense of humor is hilarious). Professor obviously cares a lot about the success of his students."
"He goes through lots of examples in class which allows me to go back and look for reference when trying to do homework problems, very helpful. He has a very dry sense of humor that adds to the enjoyment of the class, and his delight over doing in class experiments really lightens the mood of otherwise long di cult lectures."
"Very funny and entertaining. Clear and to the point. Very detailed course materials, fair exams based o homework problems and lecture."
"Professor V was very passionate about the material and it was evident through his use of frequent demonstrations. He also went though many examples in class which made the theory more applicable."
"He knows the material really well (obviously) and is extremely clear about his expectations and what he wants us to know and get out of the course. The course is predominantly the basics and straightforward, but you get a really good foundation of whatever you are learning."
"Mr. V. Is very clear about his grading criteria. He is clearly enthusiastic about his subject. The homework and exams are a fair representation of what we have learned in class. He knows the material and have good way of explaining them. Really good at explaining concepts."
"Mr. V is very good making physics less intimidating and easy to understand. His demonstrations of concepts in physics through small experiments are very helpful in understanding the course material."
"He is able to clearly articulate and explain physics._Great guy, and knowledgeable. Sometimes difficult to understand and read handwriting, but it is math not English."
"Mr. V is really nice! He tries his absolute best to provide necessary information for students to pass. He has EXTENSIVE office hours. I legitimately think he is the hardest working teacher I've had at BU - he uses these presentations to explain concepts and is EXTREMELY aware of things that people may not like (fast pace, accent?) and tries his best to accommodate for this. He is doing really, really well as a teacher and I understand why people prefer summer physics because of this."
"He was always prepared for class. He posted the slides in a timely manner and despite the class being and hour and a half long at 8:30 in the morning, he still made a good effort in being enthusiastic."
"The professor does a lot of practice problems which are very helpful for solving the homework and tests. Pretty good_enthusiastic._Amazingly brilliant and makes physics comprehensive."
"The live examples he gives in class help._Great Examples helped to explain topics visually_knows his students. Knows physics and minds of students._Professor Voroshilov is helpful and covers many examples and makes it simple to understand concepts. Great at explaining very stimulating_Good at explaining, uses lots of examples in lecture, very fair exams_Presents very clearly and thoroughly. Adds humor, keeps students engaged."
"The webassign homeworks were mostly helpful and the course gives AMPLE opportunity to get a decent grade."
"The course's exams were fair and often tested all the material learned in class. The homework, especially webassign helped prepare for the exams."
"The professor is a lovely person. Friendly and eager to help".
"He can explain concepts really well. Brings in humor to make class more interesting".
"Good professor, I am not naturally good at physics, but he explains things well".
"The homework and discussions helped me learn the material. The professor was energetic and happy to help us learn."
"Shows a strong willingness to help students and meet their needs".
"Availability outside class, always willing to answer questions".
"Much opportunity to get help and improve".
"Very knowledgeable and helpful."
"Homework is relevant".
"Good demos."
"I really enjoyed the course and webassign, homework was helpful".
"Explains concepts thoroughly".
"Funny, explains concepts well."
"Instructor was organized and prepared for the lecture."
"Explains concepts slowly so easy to understand, great having slides online for reference, in class examples and experiments."
"The course is very organized and the Web CT content is very useful. The professor is dedicated and explains concepts well."
"Very good lecturer, extremely helpful during office hours."
"I really liked Dr. Voroshilov and think he does a good job of explaining the material and does lots of demonstrations that make class more interesting."
"Very detailed powerpoints – they were very helpful in studying for tests and doing homework."
"Very nice man, very fair."
"Good objective grading."
"Labs are quick, easy and to the point. Homework is generally representative of exams, usually is relevant to material. Discussion is helpful. I like the webassign system."
"Professor knew material well and was helpful in office hours. Labs were fair, even though I hate labs."
"Instructor Voroshilov is pretty good at explaining concepts. He's very funny which keeps people awake at 8 am. His powerpoint presentations are very thorough and helpful."
"Fair grading, good TAs, relevant reading, and helpful, accessible labs."
"Helped to understand how physics is a part of everyday life. The instructor really knew his stuff, and his demonstrations were great."
"Lots of visual aids to help understanding. The professor is good and funny."
"I thought he was well organized and explained the concepts well. His emphasis on doing examples in class was very helpful! He is also pretty funny when he wants to be, which is much appreciated at 8 am while trying to learn physics. I found the professor, course and material so much more interesting then PY105!!"
"Very helpful. Wants us to succeed!"
"He experiments with methods to be more effective, very creative, very interesting and straight-forward."
"The professor really enjoys the subject and has fun teaching – good demos."
"Professor Val is very effective in teaching concepts, especially because it's obvious he put a lot of work into it, in terms of visual aids and notes. Very good professor, always available and helpful to students."
"He knows what he is talking about."
"Always available and willing to stay beyond posted office hours. Entertaining lectures, effective teaching style, approachable."
"Wants us to do well in class."
"Grading is fair."
"He is an intelligent man."
"I couldn't have asked for a better physics professor."
"His demonstrations are awesome."
"Loves teaching. Gives great examples and demonstrations in class."
"Hands down, one of the best professors I had at BU. Great humor, makes physics very fun and exciting to learn, and has fair examinations and grading policies. Great presentation skills."
"Great instructor – knows concepts well, and can grab our attention and keep it."
"Very fair exams and homework."
"The instructor is awesome with technology. He uses it as a very helpful tool in ways other teachers haven't or can't."
"Great instructor – really helps me to understand concepts I am confused about."
"Good lecturer. Knowledgeable. Better than ….."
"Very clear and reasonable expectations."
"Lab is helpful in understanding material."
"Much material covered in a manageable manner."
"Tests were straightforward and expected."
"Very straightforward, no surprises, and everything he did was relevant to the exams."
"Good pace for amount of material."
"The homework and exams were similar so studying was well rewarded."
"Great class – keep it up."
"Professor V is great and during class his introduction is most helpful."
"Amount of homework was good. Just the right amount to grasp/solidify material."
"Fast, but well taught course."
"He is able to present a lot of questions that are likely to be present on the exam and he goes over it well."
"Teaching is clear and concise. Examples on lecture slides are for homework. Demonstrations are cool and help cement concepts."
"Very effective at explaining concepts."
"Clear explanations, very good lecturer, nice."
"Hard class made somewhat easier or more manageable because of Mr. V."
"Very easy to understand and grasp concepts (even at the faster pace)."
"Straightforward course."
"Good pace and good amount of time introducing every topic."
"Challenging course. Covers all necessary topics."
"Learn a lot in a very short time, but definitely able to master material and comfortable in physics."
"Lectures were interesting, exams were decent, and homework helped a lot."
"Summer course is fast paced, but worth taking with Mr. V."
"Super easy course."
"Course is challenging but not anything impossible."
"Tests are extremely fair. Homework and textbook are very helpful."
"He explains things clearly and labs are helpful."
"I thought the test were extremely fair. I liked the problems taught and I thought the material on the tests was covered in class."
"Physics is fun due to this class."
"Very good. Not difficult for someone not good at math."
"Teaches what needs to be known in a clear/understanding matter."
"Course is clear and interesting."
"Very fair exams/assignments. Improve grading scale – A is 95+, almost impossible in an already hard class."
"Great at using real life examples and experiments."
"Clear, easy to understand."
"Well-paced course despite the course being compacted in time."
"Organization of material is superb. Professor really really cares about his students' success and learning. This is a very special, conscious professor, aware of his work and its impact."
"Loved it, great summer experience."
"Difficulty of the course is fair. Homework, labs, and attendance help boost exam grades."
"Strength: his knowledge of the subject, his ability to teach us; labs are too long."
"Great course."
"Webassign is a great practice. Well-spaced course out a six week course."
"Very funny and covers a lot."
"So interesting. Does relevant problems. Makes exams related to homework questions."
"He really enjoys physics and the experiments were cool."
"Fantastic professor, hilarious, great and enthusiastic. Nice guy."
"There were a ton of examples during lecture which were extremely helpful. He's funny too and very willing to meet with students in office hours."
"Knows answers to all my questions. Grading scale is ridiculous."
"Very enthusiastic and interesting. Knows the material well and can explain it multiple ways."
"Very good at explaining concepts and keeping students interested."
"Awesome demos."
"Professor Voroshilov is excellent. Very clear. Makes students understand."
"Very clear on the course policy and gives many outlets of problems to do to understand the course material."
"He knows what he is doing."
"He emphasized his handwriting was hard to read so he made sure people were following along so that no one would feel lost."
"Strong points were his mastery of the course material. He was always able to answer questions clearly. His demonstrations were also great, and the slides were well-prepared. Lectures sometimes were dull because we'd just worked through problems together."
"The course covered a lot of content, but it was presented in a way that made it relevant to life – the real world, so it was interesting throughout."
"Very clear verbally. Homework helps."
"Good lab."
"Fair exams."
"Homework was very helpful in clarifying concepts."
"Webassign – great tool."
"Very fair in terms of time expected on studying and homework. Webassign problems were relevant to tests and useful in conceptual understanding the material."
"Course is of adequate difficulty. Grading is very fair. Love the class. Great introduction to physics. Don't see anything to be improved."
"Exams and homework were very fair. Overall great course."
"Great professor, though could try to be less monotonous, really funny sometimes. Overall liked him and class a lot."
"The course was clear and well laid-out. It never felt overwhelming or scary."
"Labs were great."
"Great course, loved it."
"Material is very difficult conceptually, but Val does a good job of explaining it."
"The homework actually helped and the tests are very fair."
"Learned a lot. I liked that the labs were for understanding material better."
"He know the summer term is compressed, so he teaches accordingly and his exams are fair and he clearly has taken that time constraint in his mind. Also awesome physics demonstrations in class that are intriguing and help understand the material better. Improve handwriting."
"Course was not too challenging, slightly boring, but I don't really like physics."
"Office hours with professor and teaching fellows saved me."
"Course: concise and to the point; could be shorter."
"Labs are usually very helpful to reinforce concepts, great that office hours last so long."
"I like the way webassign works."
"Thank you for making physics so much fun, and for being such an awesome teacher! Happy teachers' day! You were definitely my favorite teacher! You always made our class very entertaining and I was really lucky to have you as a teacher! Thank you for teaching me to check my grades! Have a wonderful summer and stay in touch, I will read your book and tell you what I think!"
"He really cares about his students and provides the appropriate materials for their success."
"Good instructor. Helps students learn well."
"Good at breaking things down."
"Passionate about teaching."
"Very funny. Genuinely interested in the best ways to teach material."
"Mr. Voroshilov has a clear understanding of all he teaches and is a master on the subject."
"Mr. Voroshilov does a good job of doing example problems with a simple approach to make material clear."
"Enthusiastic and entertaining."
"Gives very fair exams."
"Great explanation of concepts."
"Very enthusiastic. Used lots of demonstrations. Always made time for questions."
"Gives many question examples. Each lecture has many helpful visuals."
"Very funny in some way. Goes over the course concepts clearly."
"Fantastic. Love his humor, makes class fun. Tons of office hour availability which is great. Very good at explaining concepts."
"Incredibly funny and encouraging. Really enjoyed the class."
"Very clear and knowledgeable. Funny. Made class fun and attainable."
"Cares about students. Jokes around with them."
"Obviously knows material very well and keeps class engaged. Encourages participation."
"Fantastic teacher. I suck at physics and Mr. Voroshilov made it very straightforward, understandable and manageable. Also hilarious."
"Mr. Voroshilov has a teaching technique that is almost flawless, and I wish more professors had the ability to make a class as lively and interesting as Mr. Voroshilov has done this summer. He was literally ready to risk his life to show us demonstrations, solved as many problems as he possibly could, and was fair in exams. Way to go, wish more professors were like you. Very intelligent, knows material very well."
"Makes the class entertaining. I find physics to be boring at times but he keeps things fun. Very fair grader and I like his tests."
"He is clearly passionate about physics. His accent is not a problem, because he genuinely tries to speak slowly and clearly. His class demonstrations are really helpful."
"Great."
"He clearly cares about not only the material, but his students' grasp of physics. He did his best to show and not tell. Also, examples in class made up for the fast pace. I respect how his exams clearly reflect material from class and show a true understanding of presented material. Improve: He has mastered how to teach this course. Only important would be closer instruction of TAs."
"Professor is very knowledgeable and explains concepts well. His demonstrations are useful and fun."
"He clearly loves physics. While he has typos a lot it doesn't ever interfere with clarity of lecture."
"Instructor is passionate about material, quick to answer questions (email and in person). Instructor knows about material well and truly cares about students. At office hours, instructor is extremely helpful and patient explaining concepts clearly. 10/10 experience."
"The professor is good at explaining concepts. He makes lecture interesting and is funny. He also is available for office hours regularly."
"Very fun. Some of the funniest moments in my college experience. Great format."
"Helps walk students through questions, does not mind back-tracking in case a student doesn't understand. Has a lot of visuals and experiments that he does to help us understand the material better."
"Very funny and engaging. Inspires interest."
"Knowledgeable. Morbid humor."
"Knowledgeable. Provides excellent class materials (PowerPoint, recorded lectures etc.). Assignments indicative of challenge level."
"Enthusiasm and humor. Explaining how to keep going through problems with variables."
"Mr. Voroshilov was an excellent professor. He quickly responded to all questions and was often available outside of class. He included demonstrations during almost every lecture that were both helpful and fun."
"Strong lecture demonstrations. Good paring. Great dry humor. Very knowledgeable and well organized."
"Very clear. Fair. Encourages questions. Works well with practical problems."
"Mr. Voroshilov is really good at explaining concepts. He helps me regain my confidence in physics. He is super helpful outside class. I love his jokes."
"Patient. Useful demonstrations. Useful practice problems."
"The professor is really clear. His lectures and presentations do not simply gave explanations to memorize but rather comprehend them. He accomplishes this through demonstrations with experiments. Engaged students in problem solving. Also he makes the lectures interesting."
"The professor is good at explaining concepts. He makes lecture interesting and is funny. He also is available for office hours regularly."
______________________________
First, one might ask why do I post all that feedback, isn't this just bragging?
No, it is not just bragging.
I write on education (www.Cognisity.How), and I want to demonstrate that I know what I am writing about.
I know about education not from books or theorization.
I know about education from books, from my own theorization, and from my own highly successful teaching experience, from my whole educational practice.
I believe that having this type of a feedback shows that overtime I have made a transition from being a teach-er to becoming a teach-smith :) (www.GoMars.xyz/teachsmith.html)
The first two paragraphs above are copies of the thank-you cards I got from two of my former students, the rest is the quotes from end-of-a-course (elementary physics I and II) student evaluations from 2008 to 2017 about me and the course I have designed. Those quotes represent about two thirds of positive (mostly) views expressed by students (the other third expresses sentiments very similar to already presented). It is worth noting, that many comments go beyond just "he is a nice guy"; many comments underline the fact that the course is designed to help students to get good understanding of physics.
Do I have any negative reviews from my former students?
Of course! (the copies of full evaluations are available on http://gomars.xyz/mathhealth/myinfo.htm but why would I presented here everything negative about myself? <![if !vml]>

<![endif]> )
Having only positive reviews is unnatural for a teacher of a large class. When one has several dozen students with different backgrounds, different expectations, different cultural habits and psychological inclinations, it is inevitable and unavoidable to have student who did not like the way one teaches (due to a list of possible reasons).
The first question is – does the teacher have more positive or more negative reviews?
Well, in my case, if I had more negative reviews than positive ones, I would not be allowed to teach these courses for so many years.
Since I am a teacher, it seems natural to me to evaluate my skills by comparing them with the skills of other teachers. Unfortunately, I have no access to statistic on other BU physics department faculty; I would even think that this statistic might not even exist. "Fortunately", www.ratemyprofessor.com gives some glimpses of "comparable" "data". Surly, no one can take seriously what students post on this site, at least until hundreds of students would express their opinions on the same professor. However, even with this amount of "data" we still can see some interesting patterns. There are faculty whose average rating is high because the most of the students' ratings are high; there are faculty whose average rating is law because the most of the students' ratings are law; there are faculty whose average rating is average because the most of the students' ratings are average. But there are also faculty whose average ratemyprofessor rating is average because students' ratings are very opposite (some give a high rating but some give a lower one). So far my ratemyprofessor rating is of the latter kind (good thing is that my official BU student reviews aren't such; but one can ask a general questions – what is more important, the average rating or the highest one?).
This is the glimpse of some of the reviews taken from the ratemyprofessor:
GOOD!

BAD!!

Mr. V was honestly the best professor I have had at BU. I never take the time to rate my other professors but Mr. V is worthy of the praise. He made the summer course worthwhile. His demonstrations were great and his humor always made my day. Go to office hours, do the web assign, and you will learn a lot. He is an awesome human. Thank you

I was very worried coming into this class, having ALWAYS struggled with classes like Physics. I was also worried when I heard Dr. V's strong accent. However, after taking 2 straight summer courses with Dr. V, he has proven to be an incredibly nice, caring, and funny professor who really wants his students to succeed! GO TO OFFICE HOURS, DO HOMEWORK

I took PY105 in the summer and although I honestly dislike physics, I did enjoy Mr. V's lectures. I guess his accent's gotten better because our class was the first to not complain about it (2016). The exams are generally difficult but graded more leniently that most other BU courses IMO. I'd love to have him for physics again for 106, he's chill.

Val is a great professor. He is somewhat difficult to understand and his handwriting is atrocious, but overall he does a good job getting the concepts across. He has some awesome in class demos which are fun to watch. He tests very similar to the homework problems, so if you understand the homework fully you'll be fine.

Not fair. First exam was easy. But other exams were ridiculously hard. Exams are much more difficult than HW problems. Handwriting is horrible and it is difficult to understand him. Never tells what is exactly on the exam. Expects you to study everything he gives (labs, discussion, lectures, webassign, etc). Not clear at all.

Very difficult to understand. Homework questions are not like questions done in class. Goes through too much material far too quickly. Do not take this class over the summer.

Very hard professor and moves at the pace of a fast train. he does not go through examples and thinks people understand concepts when they do not really. i really wish he would solidly lecture/explain more.

Expects you to have read ahead of class and memorized everything. there is no required textbook, but he takes class problems, homework, and test questions from the one that he recommends, which is not helpful at all. he speeds thru things and doesn't give one time to write or properly digest the info. if he's teaching, take physics later.

Unless you're a genius and already know everything there is to know about physics, DON'T take him. The language barrier isn't as bad as people make it out to be, but he just assumes that you've read 5 chapters ahead and have memorized all the equations. I've lost track of how many things I get lost on because he hadn't gone over it in class.
You would probably prefer having a teacher described on the left, and tried to avoid the one described on the right. But the fact of the matter is those two descriptions depict the same person, i.e. me (BTW: on the first day of each new class I always show to my new students a much longer list of pros and cons)!
I think this is very solid proof of the fact that different students have different learning styles and different teachers have different teaching styles, and sometimes those styles match and sometimes they don't.
It is clear that students' opinions about me are polarized, and I am absolutely fine with that.
The large part of my first lecture is devoted to presenting to students my views on physics, on teaching, on learning, on grading, and on my expectations about students. (for example, take a look at this short video: https://www.youtube.com/watch?v=E8776nfGNX8; over the years I have posted many short youtube videos, including videos on what is physics and how to solve physical problems).
I always mention a simple fact, that different students learn differently, people have different learning styles, and different teachers have different teaching styles, hence, there is always a chance that my teaching style does not math somebody's learning style. What to if that happens? Well, a student will have to make a decision – stay or go to a different teacher. So far (knock on wood) I represent a good match for the majority of students taking BU PY105 and PY106 courses.
Among negative reviews the most common themes are: an accent (Russian), handwriting (guilty, my handwriting is not much better than the one of a regular doctor), too fast (well, the average speed of covering the material is equal to the total volume of the material divided by six weeks of the course), do not answer questions in full (that is sometimes true, it depends on a question, sometimes I just cannot spend much time on repeating the material learned two weeks ago and only can point at the material which is needed to be reviewed again), too forward with students (for example, when asking direct questions; an interesting observation – you ask a direct question to a student in a lecture and the student "shrinks", but there is almost no problem if it happens on office hour).
I believe that for any teacher the list of positive reviews from students should present the best recommendation for a teaching job.
When I left my comfortable life in Russia and moved to the US I did not have professional network to rely on, or money, or language. It took me some time to finally land at Boston University physics department as a laboratory assistant. Gradually my English got better, and my knowledge of the new academic environment got clearer. After three years I got a promotion to run a demonstration facility. A year after I started teaching BU elementary physics courses, and I have been teaching physics since then. During the last several years, in addition to my full-time position at the demonstration facility, I also have been teaching, and traveling to different conferences with posters or presentations, and publishing various papers, but my dream has always been to became a full-time physics instructor.
I have an experience in research on teaching physics, I have an administrative experience, I have been helping to school teachers and administrators to improve teaching environment (for the full resume, please, follow this link: http://teachology.xyz/mathhealth/rezume.htm), but at my core I am a physics teacher.
My teacher philosophy, my views on what is teaching and what is learning are presented in my book "Braking the Mold of Conventional Thinking: a Personal Quest for Teaching Philosophy" available at https://www.smashwords.com/books/view/665204 (the short version of my teaching philosophy is attached as Appendix I).
P.S. This link http://teachology.xyz/mathhealth/myinfo.htm leads to a page with links to copies of some actual evaluations form the past.
__________________________________
Finally (August 17, 2017)!
The complete elementary Physics course (two semesters) is available online. Now everyone can see and hear what I do in a class.
Appendix II
I always tell to my students that there are science courses which represent the material simply as a collection of a disconnected facts. Courses like that do not represent students with the scientific way of thinking. Many people in the field of education for a long time have been propelling the idea of teaching students how to think critically, but they could not offer the method for how exactly this could be done. However, the method has been around for at least several hundred years, and is called – science thinking. The true science course has to guide students through the scientific way of thinking using the course material (i.e. facts) as the building bricks of the science students learn. This is how my physics course is developed and taught.
<![if !vml]>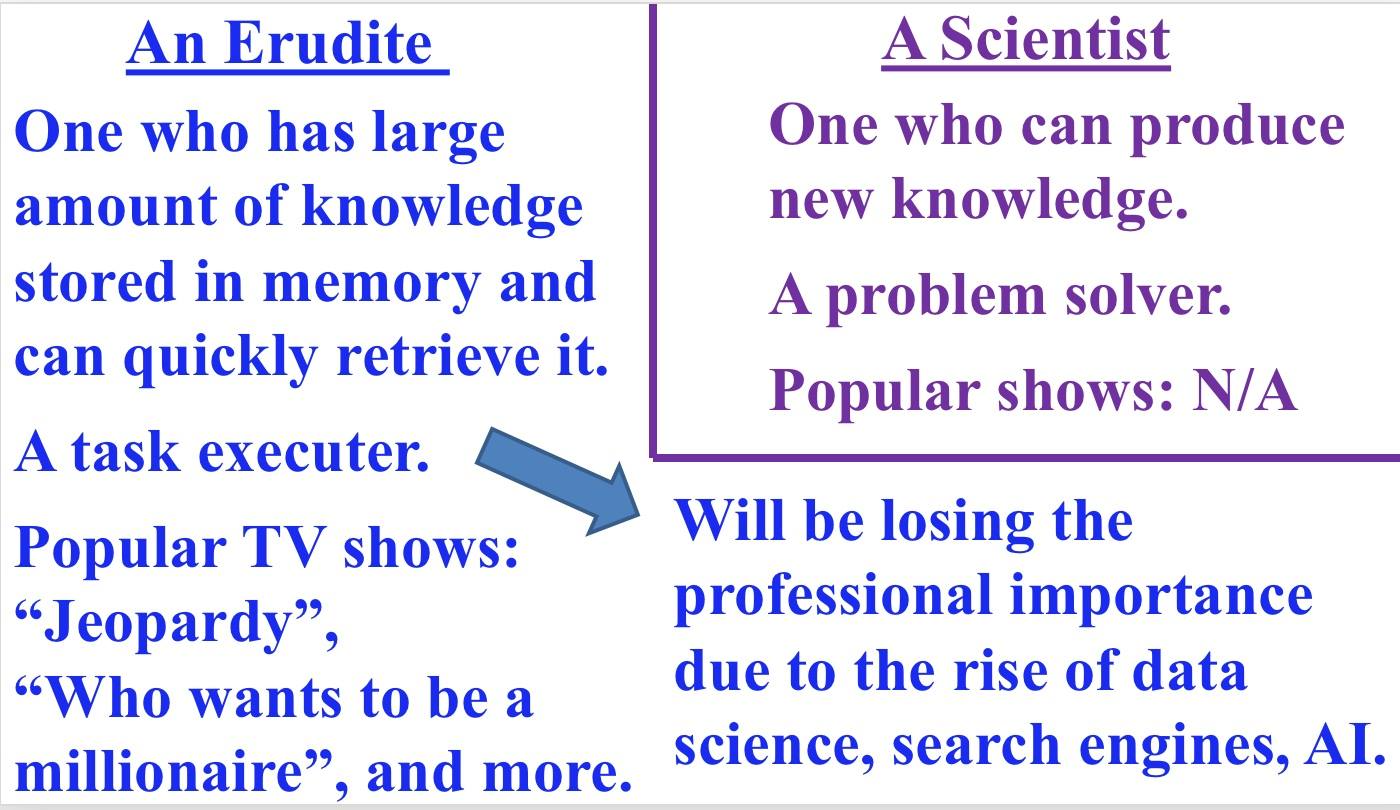 <![endif]>
<![if !vml]>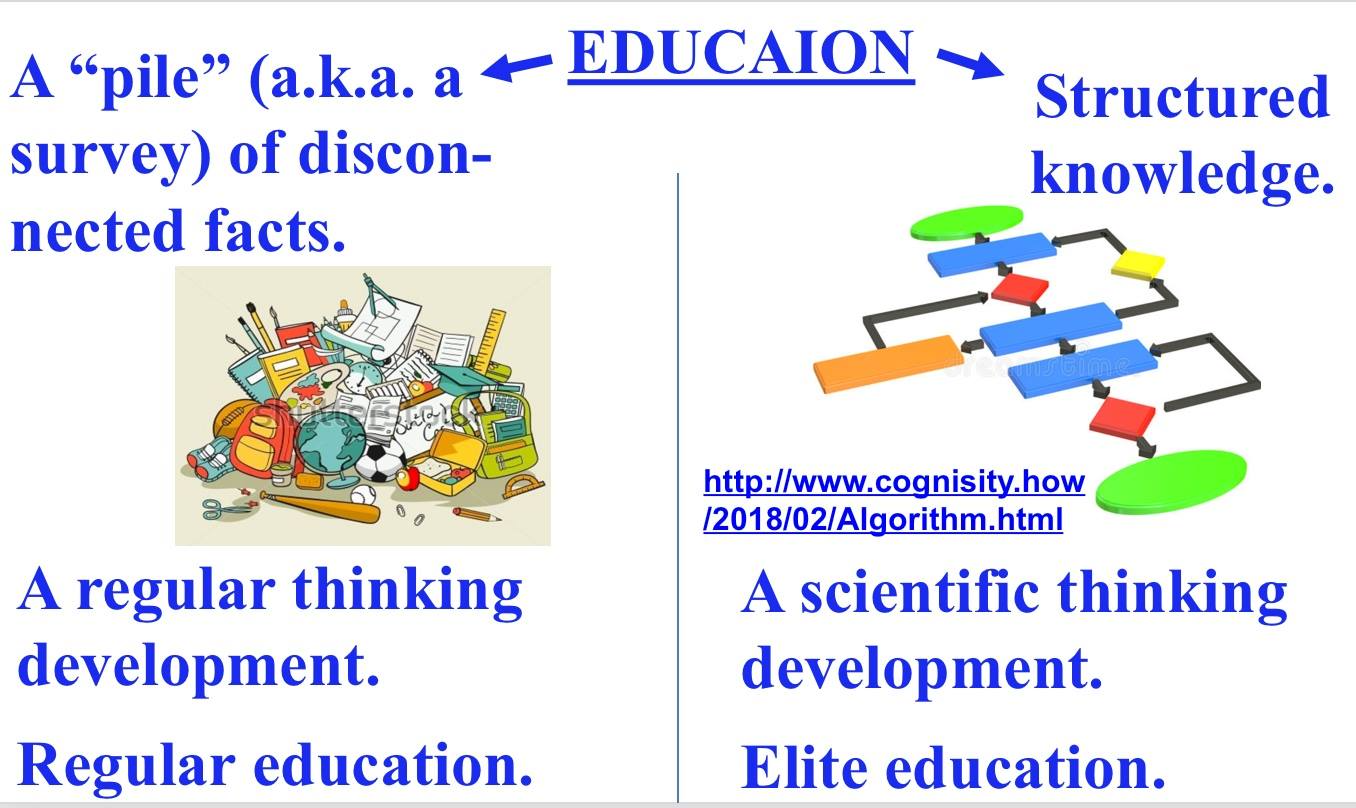 <![endif]>
Naturally, not all student like my approach, the evidence shows that some of them do.
Appendix III (some technical elements of my teaching are described at http://gomars.xyz/phy.html)
Teaching Statement (for the broader version, please follow to: http://www.gomars.xyz/vvli.html)
Dear Colleagues,
Below you find a very short version of my teaching philosophy, which has been presented in great details in my book "Becoming a STEM teacher". In chapters "What is Learning", "What is Teaching", "How I flipped my classroom without even knowing it", "What does "Thinking as a Physicist" mean?", and others I lay down the results of my reflection upon years of my (mostly successful) teaching (individual posts are also available at http://www.teachology.xyz/lc.htm).
I believe that learning is more than just acquiring a certain set of skills and prescribed amount of knowledge. Learning is an important cultural process which happens when pupils (students) are being brought into the realm of relationships and traditions which should allow them (a) to prosper in the current society, and (b) to become active agents of the social progress.
I believe that a teacher is more than just a "walking knowledge storage" who imparts this knowledge on students and judge how good students have become at reproducing the knowledge imparted onto them. My definition of teaching is: "Teaching is guiding students through a specifically designed set of learning experiences (a.k.a. student activities) to help them to develop or advance desired skills and knowledge."
A teacher is a guide, who had become an expert in a certain field, and now helps students to begin and to walk a path to becoming an expert in the field he or she wants to become an expert. In order to guide students as efficiently as possible, a teacher has to use (and often develop) specific tools/instruments students should use when immersed into situations specifically designed to help them mastering designated skills. A teacher might be not the one who designs the whole set of student activities and corresponded learning tools, but he or she generally should have a deep understanding of the reasons for the use of the activities and tools.
Students are not empty vases needed to be filled up with wisdom, not tabula rasa on which a teacher scribbles smart things. Students have certain world views, they have certain understanding of how the nature works, and a teacher cannot ignore ideas, conceptions, preconceptions (some of which might be incomplete or incorrect) students have when starting a course.
The goal of learning is to achieve a higher level of competency. Passive learning does not work. Strictly speaking, passive learning is not really a learning, it is just a precursor for an actual learning. A true learning happens when students are actively trying to merge new knowledge (usually presented to them by a teacher live or via mediating media – books, videos) with the previously internalized knowledge. Very often students run into contradictions, some of which are often called "mistakes". However, the only truly real way of learning is through making mistakes and reflecting on how those mistakes had been corrected.
One of the most important qualities of a teacher is ability to guide students through mistakes they make (maneuvering between giving away the answer and making students feeling desperate).
When assessing student's progress, a teacher is not a judge, but rather an auditor who has to present to a student the accurate measure of student's achievement (or a failure).
In the end, the most important measure of a teacher's success is good feeling students have about themselves, the course, the work students done during the course and the results of the work; and also the reputation of a teacher students pass along to fellow students.
That is why the simplest definition of a "teacher" is "the person about whom someone said at least once – I've learned something valuable from that guy!"
Sincerely,
Dr. Valentin Voroshilov
<<=== to the home page…................... .................................. to the publications===>>